Been into Pokemon since 12 years old. Fan of the Dark Type Pokemon.

Anime, Video Games, Art, History, Technology, Movies, Paranormal.
Birthday

Oct 8, 1986 (Age: 34)
Location
Favourite Pokémon

Umbreon
Gender

Male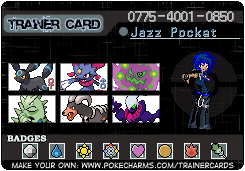 Looking To Obtain
;251;
Celebi
;382;
Kyogre
;384;
Rayquaza
"If you battle using your favorite Pokémon simply because they're you faves, copy and paste this into your sig."
-Started by Lucario Master Chris
"I believe competitive battling should be with your favorite pokemon , not with pokemon that are just powerful , no pokemon is better than another , its how you use them."
-Started by frozenthrone101