¤ tyranitar's sand stream wipped up a sandstorm ¤
I decided to make a sandstorm team. I tried to make it a little different from every one else's since they all look the same. Let's just hope you can rate it

Tyranitar@Choice Band
Adamant 252 atk / 196 spd / 60 hp
-Pursuit
-Earthquake
-Crunch
-Stone Edge

My Lead, Choice band so then it can hit things even harder. Stone Edge and crunch are there for stab and pursuit for any switches i can predict.




Skarmory@Leftovers
Impish 252 hp / 252 def / 6 spd
-Spikes
-Drill Peck
-Whirlwind
-Roost

My pysical wall and spiker. It becomes even more annoying since the sandstorm is on and whirlwind to blow away any thing that trys and get in my way.



Empoleon@Leftovers
Calm 252 sp.def / 252 hp / 6 sp.atk
-Stealth Rock
-Yawn
-Surf
-Ice Beam

My special wall. Yawn to force things to try and switch so they take damage from sandstorm, ice beam for dragons and surf for other things such as tyranitar. Stealth rock there to add a little more annoyence with spikes and sandstorm. Hmm i might replace this with swampert since i already got clefable who can calm mind and act as a special wall.



Jirachi@Leftovers
Trait: Serence Grace
Impish 56 atk / 240 hp / 136 spd / 76 def
-U-Turn
-Light Screen
-Wish
-Zen Headbutt

A support for my team wish + U-turn combo would work well and light screen to help my team from special attacks and zen headbutt to KO Heracross.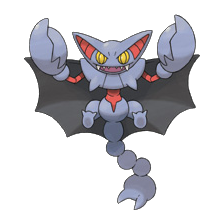 Gliscor@Leftovers
Trait: Sand Veil
Impish 6 atk / 252 hp / 252 def
-Roost
-Earthquake
-Knock Off
-Aerial Ace

Ok my team is very weak to heracross so i added this thing in. Knock off to help the team.




Clefable@Leftovers
Trait: Magic Guard
Bold 152 def / 252 hp / 104 sp.atk
-Ice Beam
-Thunderbolt
-Calm Mind
-Softboiled

Well i heard it can be hazed, roared or whirlwinded away so i might replace this for a infernape counter and somthing that can take down lucario's.

I still think my team might be weak to fighting types so i just might add in garchomp but won't really know who to replace him with. And i might need a rapid spinner but i got clefable to help me since all i have to do is switch into a pokemon that i think is going to spike then magic guard won't allow them to do so. And also thanks to pokebeach for the pictures

All people's suggestions will be bolded.

Hope you like the team Rate Away
Alzi;251;
Last edited: