And, as if by magic, the webmaster appeared...
Staff member
Admin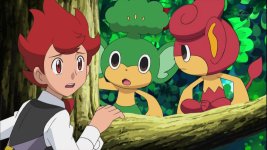 Cilan & Chili, The Brother's Battle! Pansear VS Pansage!!
While training for his gym match with Clay in Driftveil City, Ash & Co. meet up with Cilan's brother Chili. Chili is having doubts as his Pansear lost and so he wants Cilan's advice in training it. As such, Chili challenges Cilan to a battle, but when Chili loses the match, he and Pansear both react badly to it...
Visit The Episode Guide
Discuss