And, as if by magic, the webmaster appeared...
Staff member
Admin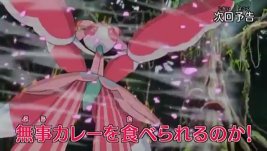 A Curry-zy Beautiful Battle! The Dance of Lurantis!
Ash and Mallow have been tasked with making the special Akala Curry. As such, they go to Lush Jungle to hunt the ingredients. Despite wild Pokémon getting in the way, they manage to get all the ingredients, but soon after that a Lurantis appears, causing Ash to have to battle it. Will he be able to defeat it?
Visit The Episode Guide
Discuss