And, as if by magic, the webmaster appeared...
Staff member
Admin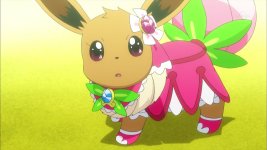 Dance, Eevee! Its Pokémon Showcase Debut!!
It's time for the next Pokémon Showcase and Serena decides it's time for Eevee to make its debut. Due to this, and how much rides on the success, Eevee gets very nervous going on stage for the showcase and as the showcase approaches, it gets even more nervous. Will Eevee manage to perform successfully with its dance and help Serena win her third Princess Key?
Visit The Episode Guide
Discuss