And, as if by magic, the webmaster appeared...
Staff member
Admin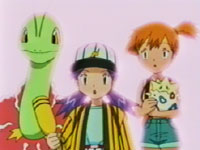 A Date With Delcatty
Casey has stopped by the Cerulean Gym to see her old friend Misty. However while there, Misty recieves a note telling her to meet a person. She goes to meet him to find out h has a crush on her. However Butch & Cassidy have their eyes set on his Pokémon...
Visit The Episode Guide
Discuss