And, as if by magic, the webmaster appeared...
Staff member
Admin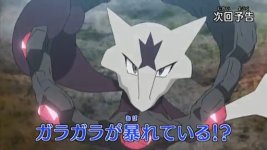 A Fire Battle! Marowak Shows Up!
While on Akala Island, Ash & co. participate in the Wela Festival where the event has Pokémon wear the Wela Crown. This crown will make Pokémon stronger while they wear it. However, a wild Marowak soon appears and steals the crown. It's up to Ash and Kiawe to get the crown back. Will they be able to get the crown??
Visit The Episode Guide
Discuss