And, as if by magic, the webmaster appeared...
Staff member
Admin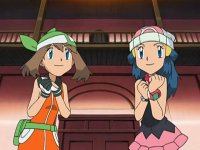 Restaurant Seven Stars! Tag Battle for a Full Course!!
Near Lake Valor, Ash & co. meet up with their old friend May, who has come to Sinnoh to participate in Wallace's special Wallace Cup for a Ribbon that can be used anywhere. Before the cup starts, the gang go to a restaurant at the Grand Lake Hotel where they can get a full course meal for free. The catch however, is that the winners of a tag battle will win the meal. Ash & Brock team up while May & Dawn also pair up for the challenges. Who will win?
Visit The Episode Guide
Discuss