And, as if by magic, the webmaster appeared...
Staff member
Admin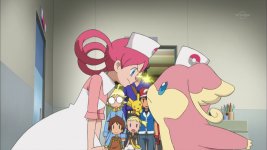 Mega Audino VS Giga Giga Meowth!!
While heading towards the next city, Ash & co. rescue a woman who they find out to be a Nurse Joy who is studying Mega Evolution. Escorting her back to the Pokémon Center, they learn they can't get in because Joy's Audino is angry that she keeps leaving for her research and the two start to quarrel. Ash & co. try to fix the rift between Joy and Audino, but before they can Team Rocket show up. Will they be able to make up and stop Team Rocket?
Visit The Episode Guide
Discuss