And, as if by magic, the webmaster appeared...
Staff member
Admin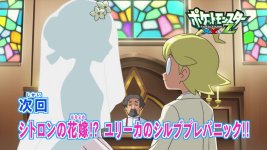 A Bride for Clemont! Bonnie's S'il-vous-plaît Panic!!
Heading to Snowbelle City, Ash & co. meet a new trainer and her Buneary. When Bonnie does her usual act of proposing to her on Clemont's behalf, things go different to normal because she too is looking for a partner. With the trainer taking an interest in Clemont's inventions and technology, they start to hit it off but Bonnie starts to feel uneasy about this and starts to interfere with the couple. Will they be together?
Visit The Episode Guide
Discuss