And, as if by magic, the webmaster appeared...
Staff member
Admin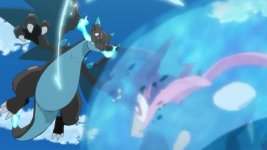 The Strongest Mega Battle! Greninja VS Mega Charizard!!
Having runited with their friend, Sawyer, Ash & Sawyer decide to have a battle to show eachother their improved skill. However, during the battle, Greninja undergoes its transformation again. Discussing their theories as to why Greninja does this, they all come at a loss. However, in the next morning, Team Rocket appear to abduct Pikachu but before they can, Alain appears. Will he have the answers?
Visit The Episode Guide
Discuss