And, as if by magic, the webmaster appeared...
Staff member
Admin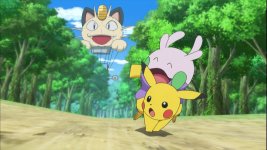 The Weakest Dragon Ever! Enter Goomy!!
While heading to Coumarine City, Ash & co. encounter encounter a Goomy, a Pokémon that is considered to be the weakest Dragon-type. As the group start trying to help the Goomy, Team Rocket monopolise on the distraction and steal both Goomy and Pikachu. When Pikachu & Goomy work a way to escape from their clutches, Team Rocket make haste. Will they be able to get away?
Visit The Episode Guide
Discuss