And, as if by magic, the webmaster appeared...
Staff member
Admin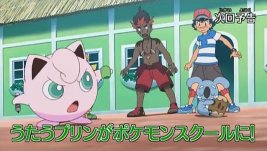 A Strong Sleeper: Komala's Secret
Ash & co. have started to take great interest in Samson Oak's Komala. Learning that it's always asleep and that it can even eat and battle while asleep, the gang are curious over how it and Samson Oak met. However, before too long, Jigglypuff soon arrives in the school and battles with Komala. Will Komala be able to defeat Jigglypuff?
Visit The Episode Guide
Discuss