And, as if by magic, the webmaster appeared...
Staff member
Admin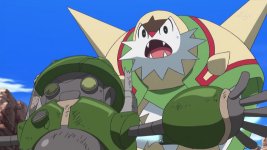 A Chesnaught from the Wilderness! The Tree-planting Robon!!
Travelling towards Snowbelle City, Ash & co. encounter a robot called Robon that appears to be trying to grow plants in the wilderness where the area used to be filled with plants, and the Chesnaught that protects it. With no luck happening from the planting, Ash & Co. decide to try and help Robon to bring plants back to the area. Will they be able to?
Visit The Episode Guide
Discuss