Friendly Neighbourhood SerebiiBot
Serebii.net has just updated with this:
This update will likely be amended throughout the day. If you have any ideas for the site, feel free to send them in
With the release of Black 2 & White 2, the
Chatroom
has been rife with discussion of the possibilities that are to come while the
WiFi Chatroom
has been a place for people to hunt down the new Dream World Pokémon for trade and to battle other trainers so be sure to visit them. Our
Forums
have also had these discussion and are a bustling trade and competitive section for the games. Be sure to like our
FaceBook Page
.
Last Update:
08:26 GMT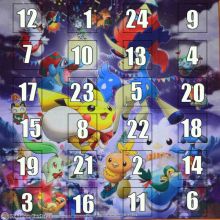 [h=3]In The Site Department[/h] Serebii.net Advent Calendar
As we have done since 2003, this year, I have been working on an Advent Calendar. For those of you who are unfamiliar with the term, an Advent Calendar is essentially a countdown until Christmas. For the past 24 days, we have added loads of puzzles puzzles and wallpapers for you to download. Today, marks the end of the advent calendar for this year with a massive 250 word Crossword, capable of being completed in your browser rather than requiring printing. The Advent Calendar and the goods within it will remain up until January 1st so check it out and do the puzzles while you still can. Click the picture you go to our Advent Calendar.
[SUB]
-- Delivered by Feed43 service
[/SUB]
More...