And, as if by magic, the webmaster appeared...
Staff member
Admin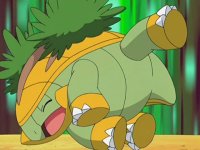 Turtwig, Grotle...and Torterra!
Travelling back to Hearthome City, Ash & Co. bump into Paul. Ash is eager to show up Paul and beat him so he challenges him to a battle. Using Turtwig in battle, Turtwig evolves when the goings get tough. However, after evolving, it loses its speed and thus its confidence. Will Grotle manage to get it back?
Visit The Episode Guide
Discuss