This a team for the Wi-Fi OU teir, it is mostly about helping Heatran get a sucessfull sweep while covering his weaknesses.
At a glance:
I first wanted to start with a good lead that could set up screens and rocks, and my imidiate thought was Bronzong.
With Bronzong's only weakness being Fire, I saw that Heatran could easily switch in and get a fire boost to help him sweep.
I noticed a crippling weakness to ground with Heatran, and wanted to find something to laugh at ground types, and I settled on Zapdos.
I then wanted another special sweeper that did not to set up and cover fighters, and I thought of Latios.
I also wanted a physical attacker that was not choice-locked, and after some thinking, I decided on Mamoswine.
And lastly, I wanted something with a lot of raw power to wrap up loose ends, and chose a personal favorite, Gallade.
_______________________________________________________
And now for a more detailed look:
Bell Boy (Bronzong) @ Light Clay
Trait: Levitate
EVs: 252 HP / 56 Atk / 200 Def
Relaxed Nature (+Def, -Spd)
- Gyro Ball
- Stealth Rock
- Reflect
- Light Screen
He is there to set up dual screens and rocks, and Gyro Ball stops him from being Taunt. The EVs are to give him a lot of bulk and to give Gyro Ball a little more bite. He also privides a good oppertunity for Heatran to switch in
Heatran (M) @ Choice Scarf
Trait: Flash Fire
EVs: 4 HP / 252 SAtk / 252 Spd
Timid Nature (+Spd, -Atk)
- Flamethrower
- Earth Power
- Dragon Pulse
- Hidden Power [Grass]
Heatran has all around good stats besides speed, so I thought I'd scarf him, Flamethrower has good power and accuracy, Earth Power is mainly for other Heatrans and fire types, Dragon Pulse is unresisted by anything with Heat Wave, and HP grass is for any Waters that want to wall him.
Surge (Zapdos) @ Leftovers
Trait: Pressure
EVs: 252 HP / 100 Def / 4 SAtk / 152 SDef
Bold Nature (+Def, -Atk)
- Hidden Power [Ice]
- Charge Beam
- Agility
- Roost
I got this moveset from a friend, and it has worked quite well, Agility boosts his speed, and Charge Beam boosts his offense. HP ice is for those who resist Charge Beam, mainly ground types, and Roost is to keep him very healthy. the EV spread is to give him maximum bulk on both ends and also to make both his defenses even.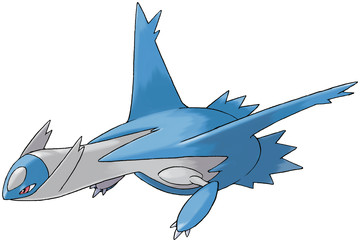 Psyke (Latios) (M) @
Wise Glasses
Trait: Levitate
EVs: 4 HP / 252 SAtk / 252 Spd
Timid Nature (+Spd, -Atk)
-
Psyshock
- Dragon Pulse
- Hidden Power [Fire]
-
Substitute
I needed something that can dish out a load of special power right away while covering Heatrans Fighting weakness. Dragon Pulse is STAB and I much prefer it over Draco Meteor because he does not have to switch out every time he uses it,
Psyshock is for chansey and the like
, HP Fire is for the annoyingly comman Ferrothorn amd Forretress, and
Substitute is to stop Sucker Punch and status from killing him.
Mastodon (Mamoswine) (F) @ Expert Belt
Trait: Oblivious
EVs: 4 HP / 252 Atk / 252 Spd
Jolly Nature (+Spd, -SAtk)
- Earthquake
- Icicle Crash
- Rock Slide
- Ice Shard
I needed a good physical attacker that could use different moves. Earthquake and Icicle Crash are STAB, Rock Slide I chose over Stone Edge for the better accuracy and QuakeEdge (or in this case, QuakeSlide) coverage, and Ice Shard completly shuts down DDNite and the like, which my team has trouble with. With the given EVs, this one outspeeds Adamant/Modest Lucario(as long as it is not scarfed), which is vital because she is weak to it.
Blade (Gallade) (M) @ Choice Scarf
Trait: Steadfast
EVs: 4 HP / 252 Atk / 252 Spd
Jolly Nature (+Spd, -SAtk)
- Close Combat
-
Rock Slide
-
Night Slash
-
Ice Punch
He is best sent out late game, and with a
scarf he is much faster.
Close Combat is STAB and he will be switching out a lot anyway,
Rock Slide
is for any dragons or Flying types that want to wall CC
and for Volcorona, Night Slash is for psychic types and Ghosts, and Ice Punch is for any dragons
​
Last edited: