And, as if by magic, the webmaster appeared...
Staff member
Admin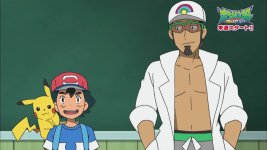 Alola to New Adventure!
After his travels in Kalos, Ash & Pikachu have gone to the Alola region on vacation. While there, Ash sees lots of Pokémon and regional variants he has never seen before. He also finds the local Trainer School where people can learn about Pokémon. Ash is so excited about how new everything is in Alola and decides to enroll in the school.
Visit The Episode Guide
Discuss