This is my rain dance team my goal is to create each sort of team such as a sandstorm, sunny day team etc and then train them up. This is my rain dance team I tried to make it different to other teams since seeing almost the same thing and move set on each team gets boring for team raters. I also add in pictures to make my thread pretty
Well here it is.





Kingdra@Life Orb
Trait: Swift Swim
Modest 252 hp / 252 sp.atk / 6 spd
-Rain Dance
-Draco Meteor
-Ice Beam
-Surf


My lead it can start nice and speedy. Rain dance boost speed and my water attacks while holding life orb makes them even better and I get stab and the 1.5x boost from life orb making draco meteor a nice move to use against over water types.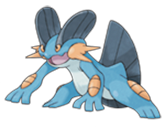 Swampert@Leftovers
Trait: Torrent
Impish 252 hp / 252 def / 6 atk
-Stealth Rock
-Avalanche
-Earthquake
-Waterfall

I made it impish to be a strong physical hitter and a tank. My team needs one of this since it can take electric attacks and fire back with a stab earthquake. Stealth rock to hurt specsmence and Gyarados. I gave it waterfall over stone edge to get stab and get powered by rain dance.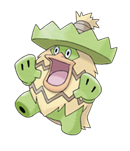 Ludicolo@Wet Rock
Trait: Swift Swim
Calm 252 HP / 56 Def / 8 Spd / 16 SAtk / 176 SDef
-Rain Dance
- Leech Seed
- Ice Beam
- Energy Ball


My team needed this as well to absorb grass type attacks. I gave it swift swim to make use of rain dance and to make it a nice fast leech seeder.




Gyarados@Leftovers
Trait: Intimidate
Adamant 180 def / 100 spd / 16 atk / 212 hp
-Waterfall
-Dragon Dance
-Ice Fang
-Earthquake

I might replace ice fang for waterfall do get somthing out of rain dance and i also might make it my lead.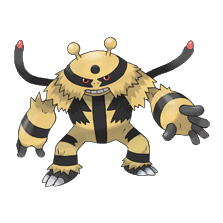 Electivire@Life Orb
Lonely 176 spd / 252 atk / 80 sp.atk
-THUNDER!!!!
-ICE PUNCH
-EARTHQUAKE
-CROSS CHOP

ludicolo_kid gave a good comment to why i should replace Jolteon for Electivire. Electivire does a way better job then Jolteon and can Earthquake Raikou to death since my team is weak to it and it can also Ice Punch Sub-Seeding Secptile i think. I went with Life Orb to do damage and to boost Thunder a little.




Suicune@Leftovers
Bold 252 def / 252 hp / 4 sp.atk
-Roar
-Calm Mind
-Rest
-Surf

Roar is to roar away and spiker / stealth rocker. Surf the stab and some advantage with rain dance calm mind to boost sp.def and sp.atk then sweep. Rest to recover the hp i lost.

Hope you liked it
If there are any suggestions or replacements you think I should do then just tell me and I will bold in suggestions and thanks to poke beach for the pictures.

Alzi ;286;
Last edited: