And, as if by magic, the webmaster appeared...
Staff member
Admin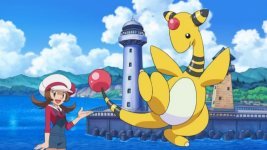 Johto Festa! Chikorita and Totodile Appear!!
In the next town, Ash & Co. discover a Johto Festival is going on. This festival demonstrates the areas and Pokémon of Johto. There, they meet Kotone, a trainer from Johto whom is helping lead the festival. A battle ensues as part of the festival and Dawn wins a Pokémon Egg. However, Team Rocket appear and steal the egg. Can Ash & Co. with their new friends Kotone & Kazunari find Team Rocket and retrieve Dawn's Egg?
Visit The Episode Guide
Discuss