And, as if by magic, the webmaster appeared...
Staff member
Admin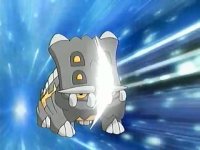 Rampardos VS Bastiodon!
After a few days waiting, Ash & Co. learn that Byron, the gym leader, has returned to the gym. Ash is eager to challenge Byron to earn his sixth badge. However, when he gets there, he sees that Roark has arrived. Roark states that he is Byron's son and they have differing views on which fossil Pokémon is best. To decide it, Byron & Roark decide to battle using their Pokémon. Who will win?
Visit The Episode Guide
Discuss