And, as if by magic, the webmaster appeared...
Staff member
Admin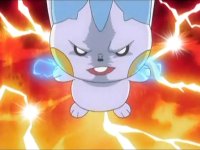 Pokémon Contest! Akebi Convention!
It's time for the Akebi Pokémon Contest and Dawn is eager to earn her fourth ribbon. While there, Dawn meets another co-ordinator who appears to be very cocky. Ending up in battle against her in the contest, Dawn faces one of her toughest battles yet against the co-ordinator's Gabite. Can Dawn win?
Visit The Episode Guide
Discuss