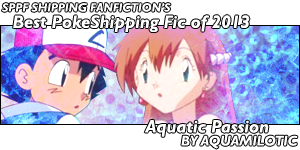 http://marvelscalemilotic.deviantart.com/art/Sunshine-405519552
This fic is on DeviantArt as well.
http://marvelscalemilotic.deviantart.com/gallery/46191191
AQUATIC PASSION
Author: AquaMilotic (with advice from Skiyomi)
Title: Aquatic Passion
Fandom: Pokemon
Pairing(s): Pokeshipping (Ash x Misty) and JoyShockShipping (Ash's Pikachu x Misty's Togetic)
Status: Completed
Rating: PG-13
Credit goes to Skiyomi for helping me a lot, enabling me to improve as a writer and have chapters with decent quality from chapter 13 and onwards. Before that, my chapters were horrible.
I don't have a PM list, but I do VM the people who read this fic whenever I post a new chapter.
CHAPTER LIST
CHAPTER 1 - THE START OF A NEW JOURNEY
CHAPTER 2 - REUNION AT THE BEACH
CHAPTER 3 - THE JOURNEY BEGINS
CHAPTER 4 - RIVALRY AND LOVE
CHAPTER 5 - BATTLE OF THE BADGE
CHAPTER 6 - A NEW FRIEND
CHAPTER 7 - APOLOGIZE
CHAPTER 8 - BLOWIN' IN THE WIND
CHAPTER 9 - SWEET VICTORY
CHAPTER 10 - BUGS
CHAPTER 11 - IS IT A BIRD? IS IT A PLANE? NO, IT'S HOPPIP!
CHAPTER 12 - ARGUING
CHAPTER 13 - MORE THAN BATTLING
CHAPTER 14 - REVENGE
CHAPTER 15 - THE RETURN OF BROCK
CHAPTER 16 - CATCH-A-SEAKING CONTEST
CHAPTER 17 - JELLYFISHING AND KISSING
CHAPTER 18 - EVOLVING RIVALRIES
CHAPTER 19 - HARD WORK PAYS OFF
CHAPTER 20 - ROCK-HARD
CHAPTER 21 - SEADRA
CHAPTER 22 - BEACH BATTLE
CHAPTER 23 - SWEET START
CHAPTER 24 - NO NEED TO WORRY
CHAPTER 25 - HAPPY BIRTHDAY
CHAPTER 26 - CONFUSION
CHAPTER 27 - WHIRL CUP FINAL
CHAPTER 28 - FIGHTING THE FIGHTERS
CHAPTER 29 - TRUST
CHAPTER 30 - FIRE
CHAPTER 31 - READY FOR BATTLE
CHAPTER 32 - SHOPPING AND SHOCKING
CHAPTER 33 - UNEXPECTED SURPRISES
CHAPTER 34 - CONFIDENCE
CHAPTER 35 - OLD HEROES RETURN
CHAPTER 36 - MISTY'S BIRTHDAY
CHAPTER 37 - TOGETIC'S STORY
CHAPTER 38 - LOVE IS A BATTLEFIELD
CHAPTER 39 - CHARIZARD
CHAPTER 40 - NOW OR NEVER
CHAPTER 41 - IN THE END
CHAPTER 42 - THE FUTURE
CHAPTER 1 - THE START OF A NEW JOURNEY
After losing to Cameron in the quarterfinals of the Unova League, he said goodbye to Iris and Cilan, and went to Pallet Town six years ago. It was a tradition. Every time when a league was finished, he went to Pallet Town, where his mother lived. Most of his Pokemon also lived there, in Professor Oak's laboratory. As usual, Ash did well in the League, but he didn't reach the final round, and as usual, he went back to Pallet Town. And just like six years ago after the Unova League, he lost a League again and returned home.
He arrived on a warm summer morning. When he got home, he greeted his mother, and went straight to Professor Oak. He asked if he could leave the Pokemon he caught in the Unova region with Professor Oak, and if he could see some of his older friends. He, Ash Ketchum from Pallet Town, sixteen years old, winner of the Orange League, had a lot of Pokemon.
There was Bulbasaur, a Grass Pokemon who lived at Oak's lab, who was great at preventing fights between the Pokemon living at Professor Oak's lab. There was Heracross, who always sucked juice out of Bulbasaur's bulb. There was Swellow, a very fast and strong bird Pokemon. Ash had a lot of different Pokemon, which he caught during his travels in Kanto, the Orange Islands, Johto, Hoenn, Sinnoh and Unova. Ash didn't knew what Pokemon he wanted to take with him.
"Professor Oak, could you please advise me what Pokemon I should take with me?" asked Ash.
"Of course!", Professor Oak said, in a nice way. Then, Bayleef tackled Professor Oak and gave Ash a hug. He caught Bayleef as a Chikorita in the Johto region. After leaving Bayleef at the lab before traveling to Hoenn, Ash didn't saw Bayleef very often anymore. Bayleef had a crush on him, and missed him very much.
"Ash, you should take Bayleef with you!" suggested Professor Oak. "She really misses you!"
He decided to followed Professor Oak's advice. Then, he saw his Totodile. Ash didn't use Totodile in battles that often. The blue crocodile was dancing, and he was very happy to see his trainer again.
"I'll take Totodile with me," he said to Professor Oak. "Of course", Oak replied.
The boy from Pallet Town had to choose three more Pokemon. He already decided to take Bayleef and Totodile with him. He also has Pikachu, his first Pokemon ever. He took the yellow Pokemon to every region he travelled to. He asked Professor Oak for help. Then, Tracey came to Professor Oak and Ash.
"Hi Ash! Long time no see!" he said. "Hello Tracey!" he replied. Tracey was a Pokemon Watcher who travelled with Ash through the Orange Islands.
"I heard your conversation with Professor Oak, and I'd like to give you some advice" he said. Ash was willing to listen. "How about Bulbasaur and Squirtle? Those two really impressed me when we travelled together!"
Ash decided to follow that advice. Even though the professor wasn't happy with it, Ash took Bulbasaur with him as well. Bulbasaur was caught in the Kanto region, and proved to be a trusty friend, and a great battler as well.
Squirtle was also caught in the Kanto region. While traveling in the Johto region, Ash decided to leave Squirtle with Officer Jenny, to become a fireman with the Squirtle Squad. However, when the Squirtle Squad failed to save a child who was trapped in a burning house, the Squad members were all fired. The child was eventually saved by firemen, but the Squirtle Squad failed to do their job properly. Since that day, Squirtle lived together with Ash's other Pokemon in Professor Oak's laboratory.
"I need one more…" thought Ash. Then, he saw his Quilava running and thought "Hey, how about Quilava?" Professor Oak agreed with him and Ash was all set to travel. "Where will you go now?" asked the professor. Ash didn't know. The only thing he knew was that he was missing something in his life. He travelled with many traveling companions. He and Iris were just friends, and the same applied to May and Dawn. But there was one girl who always had a special place in his heart. Her name was Misty. She was his special one.
The weather was great, and Ash felt like having a relaxing afternoon of sunbathing, eating ice cream and swimming. He answered Professor Oak's question and said he would just go to the beach, and then he'd travel through Johto again. He loved his last journey through Johto, together with Misty and Brock.
And so he did. After arriving at the beach, he undressed and put on his red swimming trunks. He was searching for a spot to put down his towel and relax. And that's when he saw her. She was looking as beautiful as always. Her hair was much longer than when he saw her for the last time, like the way it looked when she wears her mermaid costume, which she once wore during a show in the Cerulean Gym. He also thought her light blue bikini was looking really good on her. Ash was also surprised to see she had her Togetic back. He immediately ran to her. He wanted to hug and kiss her. "Misty, I've missed you!"
Misty used to travel with Ash through Kanto, the Orange Islands and Johto. He missed her. He fell in love with her when she saw her for the first time, despite not fully realizing it until he was travelling on his own when he was thirteen years old. And she also was in love with him, but never really had the guts to confess her feelings. When Ash returned home after losing to Harrison in the Johto League, Misty went home, because her sisters forced her to become the Cerulean Gym Leader. Back then, her sisters went on a trip around the world and made Misty fill in for them, not caring about her personal life, freedom and happiness.. She had the dream of becoming a Water Pokemon master, and traveling with Ash would've been a better way to improve than staying at the gym because of her sisters's laziness. She missed Ash so much, while being held back in her dream by her sisters.
Six years later, the inevitable happened. After six years of depression, she was sick of it. At night, she took six her Togetic, Azurill, Psyduck, Staryu, Corsola and Dewgong with her and called Professor Oak at night, sending him her other Pokemon. Then, she escaped the Gym at night. She knew her sisters could do just fine at the Gym without her, like they did six years ago when she travelled with Ash and Brock. And if they wouldn't do fine, they could always appoint someone else. The feeling of responsibility for something that was actually her sisters's responsibility made her stay at the Gym without even attempting an escape for six years, but she couldn't take it anymore. She had to do harsh labour every day and had no free time or personal freedom, causing her to be depressed.
"Hello, Professor Oak!" she said.
"Hello Misty! How are you doing?" he replied.
"Not very well. I'm going to escape the Gym, and now I need you to take care of some Pokemon of mine for the time being," she answered.
"No problem! I'm happy to help you!" answered Oak. "What your sisters did to you is really mean, I understand why you want to escape!"
And so it happened. Misty took Togetic, Azurill, Psyduck, Staryu, Corsola and Dewgong with her, and sent her other Pokemon to Professor Oak.
"Professor, you probably don't know, but could you tell me where Ash is? I miss him so much..." she asked. She was crying, her heart was broken when she had to leave her special one because of her sisters.
"He just went to the beach, just outside of Pallet Town! You can go there as well!" Oak replied. Misty was so happy when hearing that. Her tears were quickly replaced by a big smile.
It was a beautiful day for the red-haired girl. She finally left Cerulean Jail, also known as Cerulean City Gym. And even better: today, she was going to see her boyfriend again, after six years of missing him and being depressed.
When she heard that, she decided to go to the beach, near Pallet Town. She smiled at Togetic, her best friend. "Togetic, we are going to see Ash again. And you can see Pikachu again!" Misty obtained Togetic as a Togepi. After seeing Ash for a short while in Hoenn, she released her Togetic in the Mirage Kingdom. However, one day, Togetic was hovering around the Cerulean City Gym and returned to Misty. She never knew why, but was very happy about it. While her best friend appeared, she was suffering from a severe depression. However, the Happiness Pokemon was able to bring a spark of positivity, fighting spirit and optimism in her life, something she missed for five years. This also gave her the confidence she needed to escape the Gym. Togetic was like a sister to her, the awesome sister she never had, because her real sisters were such selfish airheads. Togetic didn't like staying in her Poke Ball, so she hovers and flies around Misty.
At the beach, Misty took off her clothes and put on her light blue bikini. She was laying on a red towel, and Togetic was sunbathing next to her. She was thinking about the boy she loves. About how his Pikachu ruined her bike, about how she used the bike as an excuse to travel with him and about his childish behaviour. It made him annoying and immature, but oh so attractive... Then, she saw a yellow tail.
She immediately recognized it: that must be the tail of Pikachu. "Is Ash indeed here?" she thought. She saw a guy with black hair, wearing red swimming trunks. And then, she realized it was Ash! Misty's feelings were just as strong as ever: she was still as attracted to Ash as she was in the past. He was running at her with a very happy smile, and with his Pikachu on his shoulder. "Ash, I missed you so much! I'm so glad to see you again!"
Last edited: