And, as if by magic, the webmaster appeared...
Staff member
Admin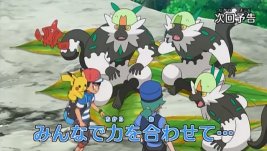 Ash and Passimian! A Touchdown of Friendship!!!
While out shopping, Ash encounters a group of Passimian. He learns that there has been a fight between the Passimian of Melemele Island and Akala Island over who will be the leader, and the Melemele Passimian lost. Ash wants to help the Passimian who lost, but when it doesn't work, he decides he must join them as a Passimian to help out. Will Ash be able to help them win?
Visit The Episode Guide
Discuss