And, as if by magic, the webmaster appeared...
Staff member
Admin
Ash Catches a Pokémon! (003)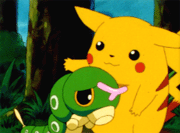 Ash Catches a Pokémon!
After catching a Caterpie with Misty in tow, Ash decides to catch another Pokémon but Team Rocket show up showing their intentions to get Ash's Pikachu. Can Ash & Misty Defend Pikachu and get the next Pokémon?
Visit The Episode Guide
Discuss