And, as if by magic, the webmaster appeared...
Staff member
Admin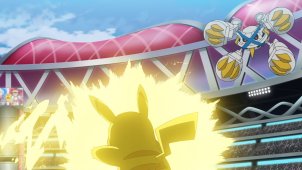 Ash Heads Into Battle! VS Steven!!​
It's time for the fourth match in the Masters Tournament. This match is between Steven, the Champion of Hoenn, and Ash. Ash hasn't battled Steven before and faces a tough battle as Steven pushes Ash against the wall with his powerful Pokémon. Ash is eager to win, not for him but for all his friends and Pokémon. Can he push through Steven's offence and get through to the Top 4?
Visit The Episode Guide
Discuss