And, as if by magic, the webmaster appeared...
Staff member
Admin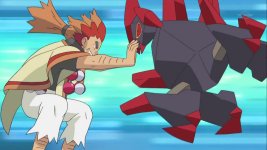 Ash VS Champion Alder!
Heading out of Nimbasa City, Ash & Co. bump into Trip and learn that the champion of the Unova region, Alder, is in Performer's Street. Ash & Trip decide to go find the legendary trainer and challenge him to a battle. However, the battle seems to be tougher than both trainers thought it would be. Will Ash or Trip win the battle, or will Alder defeat both trainers?
Visit The Episode Guide
Discuss