And, as if by magic, the webmaster appeared...
Staff member
Admin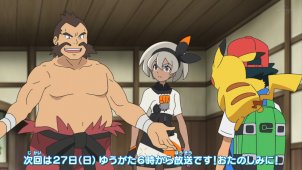 Ash VS Bea! Overcome Octolock!
After his prior defeat against Bea, the Gym Leader from the Galar Region, Ash wants a rematch. Hearing she is in Cianwood City in Johto, training at the gym, Ash decides to go there to challenge her again. Bea accepts, with Cianwood's Gym Leader Chuck watching over. Ash & Riolu are wanting to truly overcome her Grapploct's power, but will he be able to get a win?
Visit The Episode Guide
Discuss