And, as if by magic, the webmaster appeared...
Staff member
Admin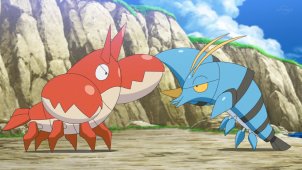 Ash VS Misty! A One-on-One on the Beach!!​
Ash and Pikachu are continuing their journey and take the time to do a spot of fishing where they see a wild Clauncher. Ash decides to catch the Clauncher but before he does, he is stopped by his old friend Misty who also wants to catch it. They decide to settle it once and for all by fishing and then a battle. Will Ash manage to beat his old friend and get the Clauncher?
Visit The Episode Guide
Discuss