Welcome to the Assassin's Alliance Stabless Tournament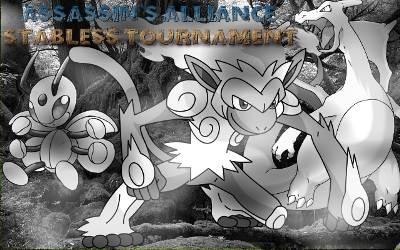 Hey guys, we needed something happening in the clan, so here it is, a new tournament. The rules and everything are as follows, just remember to have fun!
Rules
1. All matches are Bo3.
2. All matches are to be done in 5th gen B/W2 OU tier.
3. Pokemon may only use moves they will not get a stab boost on. STAB is Same Type Attack Bonus, which increases the power of a direct attack by 50% if the one of the user's types is the same as the attack's type. This basically means moves like flare blitz and close combat on an Infernape would be banned, while moves like will o wisp, night shade, and counter wouldn't as they don't get a STAB bonus.
4. All matches are to be completed by the end of 7 days after the round has begun. Any matches that haven't will be determined by activity or coin flips.
5. All matches are to be completed on Ps/Po (as most members of our clan do not use wifi).
Sign Ups
Username:
Gmt:
PO/PS Name:
Dragonicwari
TheForestSage
Epicdrill
ZoroarkForever
​
Last edited: