Yes, this thread title is perfectly serious.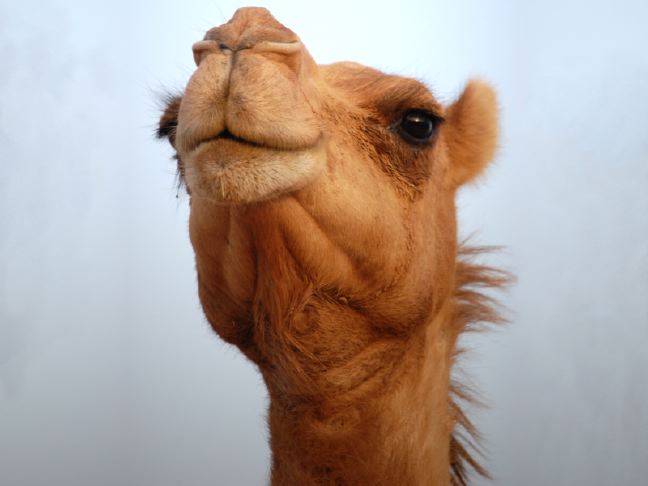 This. Is a camel.
(If it does not appear, then you are not awesome enough)
Do not be decieved by it's derpish appearence, this thing is a relentless killing machine. It also likes sand. And they are the two main themes of my team. Kind of.
Treasure
Concealed within this spoier lies a trove of treasures from Aladdin's cave.
Only joking, it's a short team building section, devoid of images because I can't be bothered it is against the laws of camelhood.

1) I added a camel.

2) I realised a camel is not a pokemon (what? Camerupt? No idea what you're on about...) so I replaced it with something sandy: a towel after a day on the beach. Only joking, I added Tyranitar. Rawr.

3) I added Excadrill.

4) But then some **** at Smogon banished it to Uberland. Fortunatly, my good friend Aladdin lent me his genie as a replacement.

5) I added Scizor, BECAUSE IT IS AN ABSOLUTE BEAST!

6) Then I added latios as a special sweeper, who also resists water and fighting, two big sand-team weaknesses.

7) Latios wasn't the best switch in available, especially as it is weak to ice. So I added a Jellifish with facial hair.

8) You're not reading this, are you? Oh, you are, awesome! Give yourself a pat on the back. No, do it! Now! .... Thank you.

9) Then I added Gliscor, coz it well mint n well annoyin' innit.

10) 3 pokemon weak to Ice was a bad idea, and mamoswine sat on my team. I was also weak to hazards, so I replaced latios with starmie.

11) Then, after some helpful help (it wouldn't be help if it wasn't helpful) I helped myself to a helpful scarved Terrakion, to deal with most-definetly-not-helpful fast threats, such as Latios. How helpful!
Under the Magnifying Glass of Camel-tron.
*Please note that the nicknames included do not actually fit. But who cares? What? You do? Get out!
**I just discovered the export button on PO. How useful!
***Aren't asterixes fun?
Sandysaurus Rex, weatherman of the year 2011. A.k.a Rexy (Tyranitar) (M) @ Chople Berry
Trait: Sand Stream
EVs: 252 HP / 200 Atk / 56 SAtk
Quiet Nature (+SAtk, -Spd)
- Pursuit
- Stone Edge
- Fire Blast
- Superpower
Standard lead to set up sand. Quiet and 56 SAtk EVs boost fire blast's power which is for forretress, skarmory etc. Stone Edge is main STAB, pursuit is SNEAKY! Superpower is coverage.
Larry, Freed Servant of Aladdin a.k.a Larry/Big L (Landorus) (M) @ Life Orb
Trait: Sand Force
EVs: 4 HP / 252 Atk / 252 Spd
Jolly Nature (+Spd, -SAtk)
- Swords Dance
- Earthquake
- Stone Edge
- Brick Break
Hurr! I'm Larry! This thing's as powerful as it looks. Factoring in Sand Force, that's the equivalent of 2 life orbs on a STAB EQ. Ow! After a swords dance:
****
. Stone edge is good Sand Force Boosted Coverge. SD is, well, SD for powering up. Brick break is additional coverage, but I hardly ever use it, so replacements for this are welcomed with open arms!
Scizor the Absolute Monster a.k.a S.A.M (Scizor) (M) @ Life Orb
Trait: Technician
EVs: 148 HP / 252 Atk / 108 Spd
Adamant Nature (+Atk, -SAtk)
- Bullet Punch
- Swords Dance
- Bug Bite
- Aerial Ace
Love this guy. Not much to say about him though. SD + Priority and/or STAB technician, LO boosted SWEEP! Aerial ace is additional coverage which allows me to harm Gliscor, and Volcarana, who tried to Quiver Dance on the switch.
Apocalypse Terry's chocolate orange a.k.a Terry (Terrakion) (M) @ Choice Scarf
Trait: Justified
EVs: 4 HP / 252 Att / 252 Spe
Adamant Nature (+Att, -SAtk)
- Close Combat
- Stone Edge
- Earthquake
- X-scissor

Terrakion, I have found, is an excellent revenge killer. Its high speed, collosal attack, and large movepool, allow it to outspeed and OHKO a number of fast, threatening attackers, such as Latios and Starmie, that would otherwise give this team a lot of trouble. CC is the move of choice here because, with it's insane BP, once all psychics and ghosts are gone, nothing much can switch in without being hit for massive damage and then outsped and KO'd the next turn. Stone Edge is another powerful STAB and EQ and X-scissor are coverage moves, the latter of which (yeah, I just used the word 'latter', back off!) is crucial for taking down the aforementioned Latios + Starmie.
(No male sprite)
Moust Ache, Chief Executive of Moustache Empire Ltd. a.k.a Moust Ache(Jellicent) (M) @ Leftovers
Trait: Water Absorb
EVs: 252 HP / 84 Def / 44 SAtk / 84 SDef / 44 Spd
Bold Nature (+Def, -Atk)
- Will-O-Wisp
- Recover
- Toxic
- Hex
Here to absorb water, fighting and ice attacks. Generally very useful. This is an interesting set. I dish out whatever status I think is most useful, then can recover with recover, or do some extra damage with hex. Hex is also good for anticipating switches into MB Espeon.
Twinkle Twinkle Little Star, How I Wonder What You Are a.k.a Twinkle (Starmie) @ Life Orb
Trait: Natural Cure
EVs: 4 HP / 252 SAtk / 252 Spd
Timid Nature (+Spd, -Atk)
- Rapid Spin
- Surf
-
Thunderbolt
- Ice Beam
Starmie is my spinner, but is also a good switch in for water, ice and fighting attacks (although only if Jellicent is KO'd). It can also sweep effectively, with STABs Surf, and coverage
Bolt
Beam.
I opted not to gowith Psyshock beacuse, in my experience, it doesn't do that much more, and I have plenty of phsyical attackers already. All that in mind, the power drop isn't worth it.
Tbolt helps to counter skarmory and jellicent
Venom Eater [NOM NOM NOM!] (Gliscor) (M) @ Toxic Orb
Trait: Poison Heal
EVs:
252 HP / 64 Att / 120 Def / 72 Spe
Careful Nature (+SDef, -SAtk)
- Swords Dance
- Protect
- Earthquake
- Ice Fang
Not much to say here either, it's quite a standard set. The EVs are complicated, but they've undergone a lot of tweaking, and they mostly work atm. SD is for prepare for a sweep. Protect allows for recovery. And EQ and Ice Fang are the sweeping moves!
;188;;188;;188;;188;;188;;188;;188;;188;;188;
And so concludes my RMT. Thank you very much for bearing with my immaturity and reading through it. It's my most successful team to date and I'm proud of it, but all comments and critisim appreciated.
Ninja Dewott Over and Out

May The Ninja Be With You
​
Last edited: