I'm working on a team for the Battle Subway, but I need opinions on it.
Politoed @ Iron Ball/Wacan Berry
Ability: Drizzle
EVs: 252 HP/252 SpA/4 SpD
Quiet Nature
-Surf
-Ice Beam/Helping Hand
-Psychic/Helping Hand
-Protect
This guy's purpose is to make it rain. It's the bulky VGC set from Smogon, but since it's ingame, HP Grass is hard to get down and Encore isn't as good since the AI is unpredictable. Protect is for stalling and scouting. The Iron ball is to underspeed Hippowdon, Abomasnow and Tyranitar so I can have rain if one of them is sent out first. I think Helping hand would benefit my team, but I'm not sure of what move to delete for Helping Hand. Possibly Ice Beam, as Ludicolo already has it.
Helping Hand and Icy Wind are legal with drizzle now because there are move tutors in BW2.
Ludicolo @ Absorb Bulb
Ability: Swift Swim
EVs: 4 HP/252 SpA/252 Spe
Modest Nature
-Fake Out
-Scald
-Giga Drain
-Ice Beam
Ludicolo's purpose is to absorb a Surf from Politoed, and be extremely fast under the rain. Fake out will help Ludicolo stop the most threatening opponent from attacking while it while it takes a 4x resisted Surf from Politoed. Then it can deal a lot of damage and almost always go first.
Ice beam provides useful coverage.

Ferrothorn @ Leftovers
Ability: Iron Barb
EVs: 252 HP/148 Def/108 SpD
Careful Nature
IVs: 2 Spe
-Leech Seed
-Protect
-Gyro Ball
-Power Whip
Yes, I'm using Ferrothorn. Call it cliched but it works.
Ferrothorn's purpose is to take a lot of hits, and drain the opponent's HP by using Leech Seed and protecting itself. It can also do a lot of damage with Gyro Ball because it's slow, and Power Whip.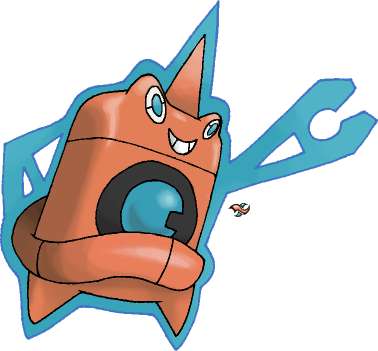 Rotom-W @ Sitrus Berry
Ability: Levitate
EVs: 252 HP/252 SpA/4 SpD
Modest Nature
-Thunder
-Hydro Pump
-Thunder Wave
-Protect
This is the Thunder User, but it also doubles as another Water type. It also has Thunder Wave to slow down the opponent and also decrease their chance of attacking. Protect is for stalling. The Sitrus Berry is to help with survivability.
Please give me advice, and tell me if there are any problems with my Team! Keep in mind it's primarily for use in the Battle Subway Doubles car.
EDIT: Rotom-W, and general changes to the team.
Last edited: