And, as if by magic, the webmaster appeared...
Staff member
Admin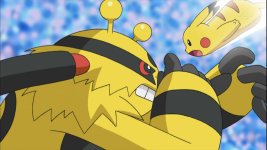 Rival Battle Conclusion! Ash VS Paul!
It's time for the end of Ash's quarter-final battle against his Sinnoh Rival Paul. With Paul having two of his most powerful Pokémon left; Drapion & Electivire, Ash faces a massive challenge as he only has Pikachu, Gliscor & Infernape left, with two of them poisoned. Will Ash manage to pull off the win, or will Paul emerge victorious?
Visit The Episode Guide
Discuss