And, as if by magic, the webmaster appeared...
Staff member
Admin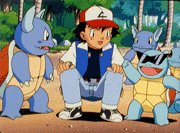 Beach Blank-Out Blastoise!
When trying to catch the last Ferry back to Kanto, Ash trips over a Wartortle and sees that there is a problem at the Blastoise island, the Blastoise on it has fallen into a Deep Sleep. Can Ash help?
Visit The Episode Guide
Discuss