And, as if by magic, the webmaster appeared...
Staff member
Admin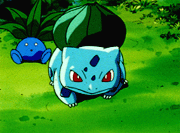 Bulbasaur & The Hidden Village!
Whilst travelling to Vermillion City, Ash & Co battle an Oddish. A Bulbasaur appears and defends the Oddish. Ash decides to catch it however he soon finds out it defends a village of sick Pokémon. Will Ash catch Bulbasaur?
Visit The Episode Guide
Discuss