And, as if by magic, the webmaster appeared...
Staff member
Admin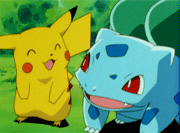 Bulbasaur's Mysterious Garden!
When Bulbasaur gets injured in a battle, it starts to feel different. Noting that it was time for the Bulbasaur festival, Bulbasaur gets kidnapped by a bunch of Bulbasaur and taken to the festival to evolve. Can Ash find Bulbasaur, or will it be an Ivysaur when he gets there?
Visit The Episode Guide
Discuss