And, as if by magic, the webmaster appeared...
Staff member
Admin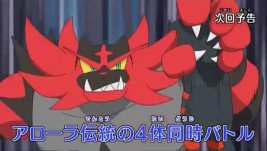 Burn with Passion, Litten! Down with Incineroar!!
Ash & Co. have seen a Battle Royal on TV and gets excited when he hears that if you go to the venue, you have a chance to battle the legendary Battle Royal Master, the Masked Royal. In the first match, Ash loses when the Masked Royal's Incineroar defeats his Litten, so Ash gets determined and insists he'd win a rematch. How does the rematch go?
Visit The Episode Guide
Discuss