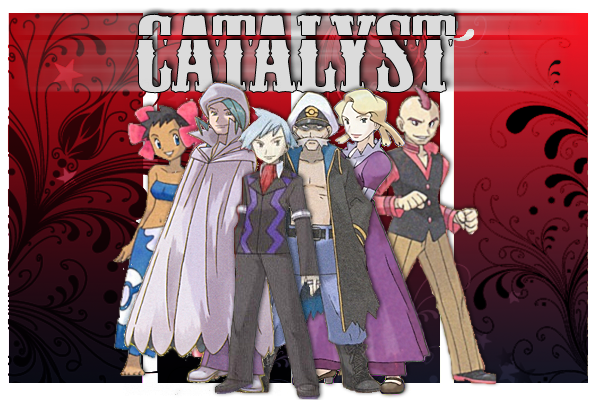 Welcome to Catalyst.
Webster's Dictionary defines the word Catalyst as an agent that provokes or speeds significant change or action.
They also define clan as a group united by a common interest or common characteristics.
Clan Catalyst is united by our strong urge to inspire change.
For too long things have been the same, and we have been oppressed.
Magma and Aqua have come and gone, but there's a much larger force out there.
The time has come for us to rise up out of the dust and take back what is rightfully ours.
​
Please fill in this form if you wish to join this clan. Just post your registration in this thread.
Name:
FC: (Specify 5th gen, or 4th gen)
Time Zone: MANDATORY! Your application will be rejected without one.
Rate yourself as a battler (this will be verified.): /10
Why do you want to join this clan? :
Would you make any improvements? :
Did anybody refer you to this clan? If so who is this person? :
After your application is accepted, you will be expected to choose a group.
Each different group will require you to form a mono-type team with a 3:3 ratio of the respective Elite member's type. Please note that the Steven group is for Owners only.​
Steven Group

-SamuraiDragon1
-Shiny Magmortar
Wallace Group
-ares43
-Darkrai00
Drake Group
-JuanLink26-18
-EmeraldGoblin-30
-rnigov
-Gorgonopsid Master
Glacia Group
Phoebe Group
-jeyre80-5
Sidney Group
-BiWinning
-Xero
-draco star 98​
Members TBD:
-TheSuperZekrom
-mallows1337
-Ravern
-Cheetochee
-Shedinja95
_______________________________________
War Points
During your downtime between wars, you will be expected to keep your guard up. Anything could happen, even during times of peace. Each player will be expected to complete 5 (five) intraclan battles per month, though you may do more. To obtain points you must win a match. The higher your score, the more points you receive. For instance, if you won your match with a score of 6-0, you would receive 6 (six) points, and so on for each score lower than that. The player with the most points at the beginning of the next war will have the opportunity to participate.
_______________________________________
Breeding Service
A breeding service will be available to all clan members. You will use points earned from battle to purchase anything from the shop. Any members that are willing to supply Pokemon for this service will receive payment from the recipient of Pokemon.
_______________________________________

Clan Rules
1: All basic Serebii rules apply. That means no flaming bashing or trolling.
2: We strongly dislike sore losers as well as sore winners. If you have a problem with how someone battled or the battle itself schedule a rematch or take it up with a Leader.
3: You must have a Wi-Fi team within 2 weeks of joining this clan. Otherwise you must have a good reason why you can't have one yet. Having a team available for use on Pokemon Online is also incredibly convenient.
4: Please, no blatant hacks(ie. WonderTomb). For fifth gen, using unreleased Dream World pokemon constitutes a hack. You will be given three chances, when those are used up you will be banned from the clan.(legit hacks are acceptable)
5: You must be active. That means at least one post a week unless you give notice beforehand.
6: You may only battle each person once a day per generation/tier, for points. You must wait until the next day to have another points battle with them in the same generation/tier.
_______________________________________
Userbars









-Credit goes to EmeralGoblin for the awesome User Bars and Banners!
Clan Xat (chat):
Catalyst
Last edited: