And, as if by magic, the webmaster appeared...
Staff member
Admin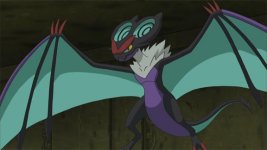 Noivern Appears! The Legend of the Comet & the Hero!!
Arriving on the next island, Ash & co. learn that it's the time of the year for the Woodate's Comet showing, which only appears once every 10 years, so they go to the top of a mountain to observe it. It is said that when the comet passes, the Pokémon in the area start acting strangely. When travelling up the mountai, they discover Woodate's battlefield amongst the ruins, but soon find that Team Rocket have a plan set. Will they managed to stop Team Rocket in time to see the comet?
Visit The Episode Guide
Discuss