And, as if by magic, the webmaster appeared...
Staff member
Admin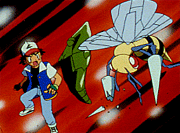 Challenge of the Samurai!
With his newly evolved Metapod, Ash & Misty go further into the Forest where a Samurai challenges Ash to a battle...Metapod VS Metapod. However a load of Beedrill start attacking after a while...will they make it?
Visit The Episode Guide
Discuss