And, as if by magic, the webmaster appeared...
Staff member
Admin
Charmander, the Stray Pokémon (011)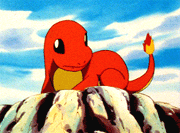 Charmander, The Stray Pokémon!
While travelling, Ash & co. find a stray Charmander left ona rock awaiting its trainer. They go about their business until they find out about how it's trainer left it there and doesnt intend to get it back. However it starts torrential raining and the Charmander gets sick. Can Ash save it?
Visit The Episode Guide
Discuss