And, as if by magic, the webmaster appeared...
Staff member
Admin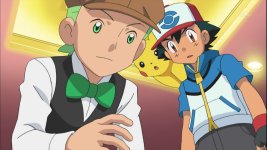 Cilan the Connoisseur Detective! A Locked Room Mystery on the Open Sea!!
Traveling to the next island in the Decolora Islands, Ash & Co. participate in a small tournament on the ship. After the tournament, a gem collector intends to show off her special gem collection, and her Purrloin seems jealous of one of the jewels. Another gem collector is onboard and continually asks the collector to sell him her special Liepard's Eye gem, but she refuses. However, the gem soon goes missing and accusations fly everywhere. Cilan decides it is down to him to find out who stole the gem...
Visit The Episode Guide
Discuss