And, as if by magic, the webmaster appeared...
Staff member
Admin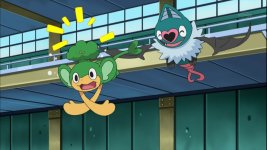 Mistralton Gym Air-Battle! Challenger Cilan!?
Finally arriving in Mistralton City, Ash & Co. get to the gym and learn from Skyla that the gym battle is to be a special "Air Battle" where she is challenged by multiple trainers at once. Ash is somewhat intrigued by this and books a slot where he can participate in order for him to earn his new badge. However, Cilan gets angered by this and challenges Skyla to a battle the proper way to see if she is even capable of being a proper gym leader. Will she prove herself?
Visit The Episode Guide
Discuss