Welcome to Clan Behemoth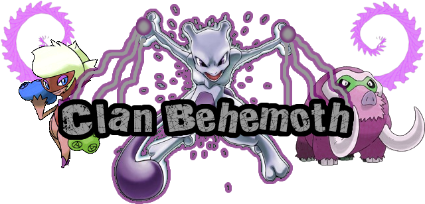 We are Clan Behemoth The Spin Off of The Super Elites, We treat everyone with respect here you will learn how to become a Great Battler, We will train you and teach you all you need to know about pokemon. As you learn more your knowledge in battle will grow as well, If you need a pokemon our breeder will handle it for you, We are a nation wide clan so you can find us almost anywhere, We will buff your skills and take you to your highest level and battling and breeding.
How To Join
Very Simple...Fill out this Form and await an introduction battle from either a Leader or Co-Leader who will then after the battle talk about the battle with other Leaders and Co-Leaders to determine a position. Only the rare and exceptional battlers will start off as an PWNSTERS. If a Leader/Co-leaders determines PWNSTERS worthiness, you will be given another test battle for final determination. Onto the form...
Name:
IGN:
FC:
Level of Activity on Serebii:
Pokemon Battling experience:
How Many Clans/Teams are you a member of:
Your Two Favorite Pokemon and Why:
URL to your proflie:
How Are you Initially Ranked?
You are ranked pretty much straight up, if you are defeated 6-0 or 5-0, then you are ranked as a rookie. If you are defeated 4-0 or 3-0 then you are placed as Intermediate. If defeated 2-0 or 1-0 then you are ranked Advanced. In the event that you are defeated 1-0 or win your match, and your tester believes you are an PWNSTERS battler, another Leader/Co-Leader will test you to verify your standing. Things of note...the type of team you utilize, the strategy you employ, the variety of your Pokemon all factor into your placement. Winning 5-0 or 6-0 with Super OUs doesn't qualify you as an PWNSTERS battler, quite the contrary. With that being said, we reserve the right to use our judgements and place where we see fit
The Behemoth News Bulletin
We are Back open Welcome all and injoy
Team Alliances/War Status'
Clan Missions
Clan Behemoth Team Lineup
Leaders:
-Legend6491: 1461 3066 1150
-
Co-Leaders:
-
-
Team Banner Maker:
Team Breeder:
BEHEMOTH!!:
-
-
-
PWNSTERS:
-
-
-
-
-
-
-
Advanced
-
-
-
-
-
-
-
Intermediate:
-
-
-
-
-
-
-
Rookies:
-
-
-
-
-
-
-
Stars in the Making: (Folks who need to be tested)
-
-
-
-
-
-
Clan Behemoth Hall of Fame:
How Do I Rank Up?
Now that your on the team, here is how you will rank up. To maintain fairness and uniformity, no exceptions will be made. Defeating a Leader or Co-Leader in battle DOES NOT warrant auto rank up. Also, doing regular day to day battles with Leaders/Co-leaders does not count towards your ranking up, since Leaders/Co-Leaders aren't ''tiered'' per CB. Following these guidelines get you ranked up fellow Behemoth!
~Defeat All Members in your current bracket (5 minimum)
~Defeat Members in the bracket above you (3 minimum)
~Commence in an official Rank Up battle with Two Leaders/Co-Leaders
After the battle with your Leaders, final determination will be made. Win or Lose; a good showing will propel you higher.
~To Enter Behemoth category, you must defeat all the PWNSTERS at least once and defeat two Leaders
Team Rules
Here are the team rules. Please follow these to prevent any infractions and/or removal from Clan Behemoth.
Rule 1: No Spamming; Self explanatory.
Rule 2: No Flamming, baiting, name calling etc. We are all big kids/adults and don't need to stoop that low. We are about having a good time and getting better, not actin like a fool.
Rule 3: We use Standard Rules for battles, unless stated otherwise.
Rule 4: No hackers...self explanatory. We are about fair battling, not cheats
Rule 5: In the event the clans you are a member of engage in war, you must join the CB or remain neutral
Rule 6: Have fun, battle, be active (to prevent Slaking status) and become a BEHEMOTH!!!
The CB Shop
The CB Shop is now
Closed
-Each member starts off with 25 CB Coins
-Recieving points is easy...just battle! Earning CB Coins for shop is earned this way:
-Get your friend to join Clan Behemoth is 1000 Coins(A Friend)~you and your friend must be active for 3 days for the inviter to get 1000 Coins~
-6-0 an opponent is 50 Coins
-5-0 an opponent is 35 Coins
-4-0 an opponent is 25 Coins
-3-0 an opponent is 15 Coins
-2-0 an opponent is 10 Coins
-Eeking out a win is worth 5 Coins
-Winning a Tournament is worth 250 Coins
-Defeating non members of the CB using the above matrix nets you +5
-Get one of your proposed Elite Missions accepted nets you 100 Coins
-Breed a poke with at least 2 31 IVs for the giveaway nets you 100 Coins
-This is based on the honor system, ONCE A WEEK; PM either myself or any Co-Leader with your points and it'll be updated here. Prizes in the shop will be rotating constantly. Please guys, do not PM me after each battle you complete...just tally it up and give it to me at the end of the week! If you want to ensure a purchase from the shop and you are REALLY close, then by all means, hit me up before the shop rotates. If not, help me out here
CB Items to Buy
Event Pokemon
Team Banners Available​
Last edited by a moderator: