And, as if by magic, the webmaster appeared...
Staff member
Admin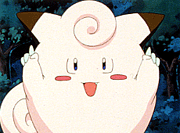 Clefairy & The Moonstone!
With Brock as their new companion, Ash & Misty arrive in Mt. Moon where they meet a Scientist and a Clefairy. However Team Rocket want to steal this Clefairy and the Moonstone...can Ash & Co. Protect it?
Visit The Episode Guide
Discuss