And, as if by magic, the webmaster appeared...
Staff member
Admin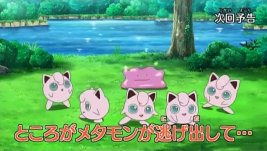 C'mon, Search for the Transformed Ditto!!
The group are invited to go to the Aether Paradise, an area where Pokémon can live in peace and protection that is looked after by Lusamine and the Aether Foundation. However, while touring the area, a wild Dittog ets loose and starts to transform into other Pokémon, causing various havoc throughout the Aether Paradise. Will the group be able to find it?
Visit The Episode Guide
Discuss
Last edited: