And, as if by magic, the webmaster appeared...
Staff member
Admin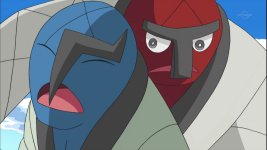 Decisive Battle Donamite! Throh vs Sawk!!
It's time for the end of the Donamite tournament and the Semi-Finals begin. With Ash, Bianca, Stephan and the reigning champion all in it, battles are sure to be fierce. Bianca and her Emboar have to face Stephan's Sawk while Ash & Scraggy are facing the chamion and his Throh. Who will emerge triumphant and the overall winner of the tournament?
Visit The Episode Guide
Discuss