And, as if by magic, the webmaster appeared...
Staff member
Admin
Time for the next Pokémon of the Week and this time we start our annual three week celebration of the latest movie
So, this week we have the god of all Pokémon...Arceus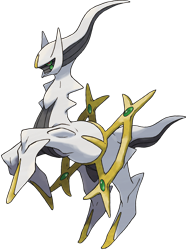 Arceus is capable of so much. It can be any type and is the strongest non-Mega Evolved Pokémon in the game
Feel free to go with any of the types with your combinations. Nothing is off limits!
http://www.serebii.net/pokedex-xy/493.shtml
Go nuts