And, as if by magic, the webmaster appeared...
Staff member
Admin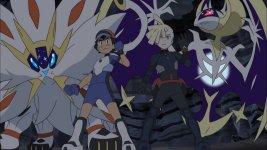 Connect to the Future! The Legend of the Blinding One!!
With the strength of all of their Z-Moves combined, Ash, Lana, Kiawe & Gladion do their best to rescue Nebby and help Necrozma. However, back in Alola, Team Rocket are still trying to get into the wormhole to get Necrozma. Will Ash & Co. be able to help Necrozma return to being what is known in legend as The Blinding One and will they be able to save Poipole's world and Alola?
Visit The Episode Guide
Discuss