And, as if by magic, the webmaster appeared...
Staff member
Admin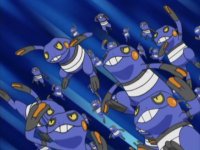 The Croagunk Festival of the Pastoria Great Marsh!
Ash & Co. finally arrive in Pastoria City where they meet Crasher Wake, the gym leader. He mentions that there is a Croagunk Festival going on at the nearby Great Marsh. Brock is eager to enter with his Croagunk. Acting like a contest, the rounds show off Croagunk's unique skills. However, Team Rocket wish to enter and obtain the Croagunk...
Visit The Episode Guide
Discuss